BLACK DIAMOND KARATE INSTRUCTORS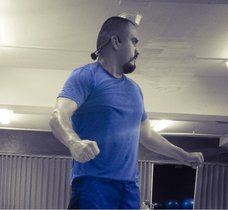 Juventino Torres
Hello my name is Juventino or Juve for short. It's one of those names that has a special meaning. Which is youth at heart and that's how I feel from being a body combat instructor for over four years. I always like to challenge my group to it's max.

I trained in MMA for over three years and took Body Combat classes for two years. I really enjoyed what I was doing and decided to get certified in Body Combat in 2013.

Since, getting my certification I have been teaching this program, helping people get fit while doing an activity that is really enjoyable. That's why it comes so natural to me.

If you are going to be attending I challenge you to go as hard if not harder than me and enjoy the process of getting fit along the way. I am also CPR certified.



---