BLACK DIAMOND KARATE | NON-TRADITIONAL PROGRAMS
Black Diamond Karate of Chester NJ, 07930 training programs are designed to support various levels of physical fitness and motivation. We will meet with you and discuss what type of program suits your needs.

* Note training programs at certain times may require intense structured physical contact with one or more students and or instructors during normal training activities.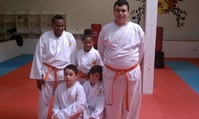 Special Needs
Age: 10 +
Time: 45-60 min
Our Special Needs program at Black Diamond Karate in Chester NJ, 07930 offers dedicated classes for special needs friends and family. Sensei Cory has over 6 years of direct experience in working with special needs students ages 10 through adult. Teaching methods have been developed and designed with over 6 years of working with special needs students and input from Occupational / Physical and Speech therapist.
This program supports students with a wide variety of needs including Autism, Down syndrome or someone that is recovering from Traumatic Brain Injury.
Black Diamond Karate has worked with organizations such as the ARC, Lions and Kiwanis clubs as well as parent groups in-order to help support parents and students who need our services. Sensei Cory is very conscious of the students' needs and will even offer to work with their Speech Pathologist, Physical and or Occupational Therapist to ensure that the students' needs and activities support their current therapy..
---