BLACK DIAMOND KARATE | FILIPINO MARTIAL ARTS
Black Diamond Karate and Fitness of Flanders NJ, 07836 training programs are designed to support various levels of physical fitness and motivation. We will meet with you and discuss what type of program suits your needs.
​
* Note training programs at certain times may require intense structured physical contact with one or more students and or instructors during normal training activities.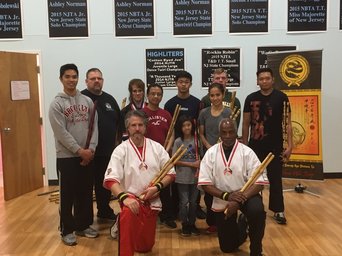 Teen / Adult
Age: 13 and above (recommended 16 and older)
Time: 90-120 mins
Equipment: Loose Clothing and sneakers, Designated uniforms later
Blades and bastions will be determined as needed.
​
Filipino Martial Arts Education:
Brought to you by the:
Mataw-Guro Association International Academy
and Sword Stick Society International

​
FMA Education correlates the techniques of Filipino martial arts and creates a basic standard of fundamentals from which all FMA styles can be built. Most important are the small set of "classical maneuvers" from which all techniques are based, and the two "basic strikes" from which all strikes derive.

This Filipino Martial Arts Program is based upon the Martial, Medicinal and Meditational Disciplines found inherent in all Martial Arts Systems. The curriculum is outlined in the format of the newly published book by Tambuli Media :: FMA Education ~ the Fundamental Core of Arnis de Mano by authors Mataw Guro Louelle Lledo, Jr. and Mataw Guro Andy Sanano, Jr. in which Dr. Christopher Viggiano - Master Teacher is a contributor and Medical Advisor to the Mataw Guro Association - International Academy.
Regardless of System, Rank or Style ... the Mataw Guro Academy curriculum offers the novice and adept New Horizons of possibilities of training towards Self-Mastery by creating an environment of Passion, Perseverance and Patience with colleagues & classmates by detailing the Philosophy, the Science of Anatomy ~ Physiology ~ Physics and the Art of Self Expression in the ever present battle of the Mind, the Body & Spiritual Attainment.
​
---