BLACK DIAMOND KARATE | CHILDREN'S PROGRAMS
Black Diamond Karate of Flanders NJ, 07836 training programs are designed to support various levels of physical fitness and motivation. We will meet with you and discuss what type of program suits your needs.

* Note training programs at certain times may require intense structured physical contact with one or more students and or instructors during normal training activities.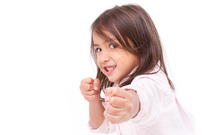 Pre-School :
Age: 4-5
Time: 30 min.

Theme: Program is designed around age appropriate skills that help your child become sharper, more focused, better developed physically, mentally and socially. Emphasis is on life skills such as discipline, how to listen, following instructions and how to be a good student.
---
School Age:
Age: 6-12
Time 45 - 60 min.

Theme: Program adds to the Pre-School program but students start to discuss and understand real world situations. We encourage self-confidence, courtesy, and discipline. Students develop the proper "tools" so they learn how to identify and protect themselves from influences outside the DOJO and home.
---